Prerequisites:
PortalSDK has been activated for your organisation. Click here for instructions
You have an appropriate role for your Black Pear service
To launch Black Pear Core:
1. Within EMIS, open the required patient record.
2. From the Summary or Consultations tab, click on the External Views panel on the left hand side
3. Within the External Views, select Black Pear Core: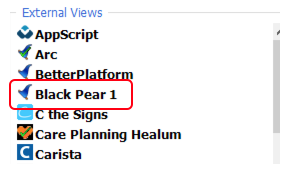 As soon as this is highlighted and clicked, the app will launch.
To close Black Pear Core:
1. Click the Close button in the top left hand corner: