Launch from a Pyrusium browser
Pre-requisites:
The EMIS EMAS Manager has been configured for each user as per these instructions: https://support.blackpear.com/hc/en-us/articles/360038364131-API-configuration-for-EMIS-per-user-
User launches Pyrusium
User is taken to the log-in screen
User clicks on 'Sign in to SIDeR'. The user will be required to enter their windows username and password (the same combination used to log into their Active Directory i.e when you first log into your device).
This will take the user to the Black Pear landing page. Click on the 'Core – SIDeR' icon
The user will be taken to the SIDeR Shared Care Record home screen, from which they can search for the patient they wish to view the Shared Care Record of. Alternatively, the app will pick up the currently open patient from EMIS Web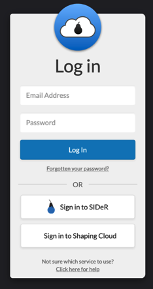 If you do not have Pyrusium installed on your device, please contact the SCW Service Desk to get this installed.