Product Manager error messages on starting Pyrusium:
On starting Pyrusium, if you get the following error messages there are two potential areas of investigation:
1. It is possible that the ODS code entered during installation is not reflected at the Black Pear side: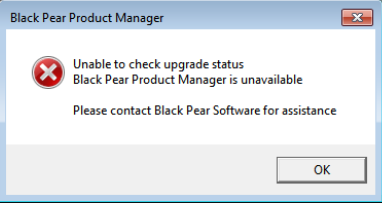 To check, please email support@blackpear.com and request that an organisation check is performed.  Please ensure you include the ODS code and practice name.
2. There is a proxy in place at the practice.  In which case:
Go to services
Stop the service: Black Pear Product Manager
Within the service properties, assign credentials to Log On with
Save the properties
Restart the service
Regarding the Log On account, the local IT team may need to think about the account they use for this taking into consideration potential password changes.