Product Manager error messages on starting Pyrusium:
On starting Pyrusium, a check is done to see if there is an update required. You may get an error message if that check has failed. There are several points of failure:
If you see a message that looks like the following: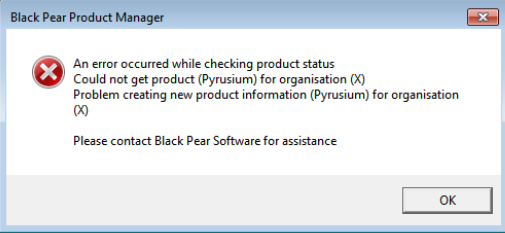 1. Firstly confirm that the code in the brackets represented by X above, is your ODS code. If this looks incorrect then this has been entered incorrectly during installation and needs to be corrected. This can be corrected by going to c:\program files\black pear software\pyrusium.exe.config and replacing the practice code with the correct one.
<appSettings>
<add key="product.ClientCode" value="X" />
</appSettings>
2. If this looks correct, please contact Black Pear Software to ensure that the organisation has been configured at their side. Email support@blackpear.com with this request.
Another point of failure, is that the Product Manager service is not running. You will see this message: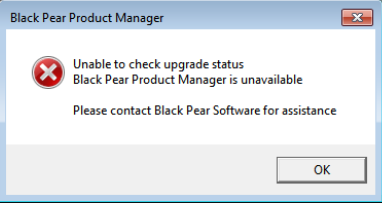 3. Please go to Services and start the Black Pear Product Manager Service.
4. Finally if there is a proxy in place at the practice, you will need to adjust the service file as follows:
Go to services
Stop the service: Black Pear Product Manager
Within the service properties, assign credentials to Log On with
Save the properties
Restart the service
Regarding the Log On account, the local IT team may need to think about the account they use for this taking into consideration potential password changes.